CondorWorld Medlánky Cup 2014 › Results › Day 1 › 25.10.2014
Training Day 1 Day 2 Day 3 Day 4 Day 5 Day 6 Day 7 Day 8 Overall Results
Racing Task | Final Results | Maximum Points: 672 | Day Factor = 1.0000
| | | | | | | | | | | |
| --- | --- | --- | --- | --- | --- | --- | --- | --- | --- | --- |
| # | | PILOT | CN | RN | PLANE | DISTANCE | TIME | SPEED | PEN | POINTS |
| 1 | | Erik Praznovsky | EP | OM-1974 | JantarStd3 | 217.81 km | 02:10:48 | 99.9 km/h | 0 | 672 |
| 2 | | Arne-Martin Guettler | AXM | LN-GOD | LS4 | 217.81 km | 02:06:11 | 103.6 km/h | 0 | 669 |
| 3 | | Helmut Kuenne | F9 | D-2318 | LS4 | 217.81 km | 02:06:59 | 102.9 km/h | 0 | 662 |
| 4 | | Radek Mica | RUM | OK-5417 | ASW19 | 217.81 km | 02:12:13 | 98.8 km/h | 0 | 660 |
| 5 | | Jon Holland | 123 | G-RUSH | ASW19 | 217.81 km | 02:12:30 | 98.6 km/h | 0 | 657 |
| 6 | | Hans Nyc | JN | OK-6200 | ASW19 | 217.81 km | 02:13:38 | 97.8 km/h | 0 | 648 |
| 7 | | Martin Dvorak | CCC | OK-9252 | JantarStd3 | 217.81 km | 02:13:38 | 97.8 km/h | 1 | 647 |
| 8 | | T Bastiaanse | SHT | PH-1524 | JantarStd3 | 217.81 km | 02:13:55 | 97.6 km/h | 0 | 645 |
| 9 | | Ronald Deerenberg | BVO | PH-DSA | ASW19 | 217.81 km | 02:14:09 | 97.4 km/h | 0 | 644 |
| 10 | | Mikko Nurminen | MX | OH-900 | ASW19 | 217.81 km | 02:14:44 | 97 km/h | 2 | 637 |
| 11 | | Laszlo Orsy | EJE | HU-EJE | LS4 | 217.81 km | 02:10:32 | 100.1 km/h | 0 | 631 |
| 12 | | Norbert Kiss | CN | HA-1974 | JantarStd3 | 217.81 km | 02:15:39 | 96.3 km/h | 0 | 631 |
| 13 | | Wlodzimierz Kowalski | DB9 | SP-2964 | ASW19 | 217.81 km | 02:16:19 | 95.9 km/h | 0 | 626 |
| 14 | | Soenke Neumann | SN | D-0815 | ASW19 | 217.81 km | 02:16:23 | 95.8 km/h | 0 | 625 |
| 15 | | Jiri Adam | ADX | OK-0024 | JantarStd3 | 217.81 km | 02:17:09 | 95.3 km/h | 0 | 619 |
| 16 | | Jiri Nemecek | D32 | OK-6432 | ASW19 | 217.81 km | 02:17:55 | 94.8 km/h | 1 | 612 |
| 17 | | Bob Fielder | CKF | 3110 | ASW19 | 217.81 km | 02:17:48 | 94.8 km/h | 3 | 611 |
| 18 | | Pj S | PJS | PH-PJS | ASW19 | 217.81 km | 02:18:15 | 94.5 km/h | 0 | 611 |
| 19 | | Echo DeltaBravo | EDB | PH-1999 | LS4 | 217.81 km | 02:13:03 | 98.2 km/h | 0 | 610 |
| 20 | | Tom Bouctou | BIR | D-9876 | ASW19 | 217.81 km | 02:18:17 | 94.5 km/h | 0 | 610 |
| 21 | | Uwe Melzer | UWE | FUNFLY | LS4 | 217.81 km | 02:13:33 | 97.8 km/h | 0 | 606 |
| 22 | | Eduardo Campolina | EWC | PLANABH | ASW19 | 217.81 km | 02:18:50 | 94.1 km/h | 0 | 606 |
| 23 | | Tomasz Lazorko | PSP | SP-0998 | ASW19 | 217.81 km | 02:19:42 | 93.5 km/h | 0 | 599 |
| 24 | | Lubos Faitz | LFM | OK-4812 | ASW19 | 217.81 km | 02:20:03 | 93.3 km/h | 0 | 597 |
| 25 | | Miroslav Ladnak | MIL | OM-ORLE | LS4 | 217.81 km | 02:16:32 | 95.7 km/h | 0 | 583 |
| 26 | | Marcin Martyna | MRM | SP-2987 | JantarStd3 | 217.81 km | 02:21:53 | 92.1 km/h | 3 | 580 |
| 27 | | Mariusz Pacholczyk | MP1 | SP-1313 | JantarStd3 | 217.81 km | 02:22:43 | 91.6 km/h | 1 | 576 |
| 28 | | Milos Koch | MK | OK-1823 | ASW19 | 217.81 km | 02:23:16 | 91.2 km/h | 0 | 573 |
| 29 | | Piotr Raczynski | PIT | SP-2901 | JantarStd3 | 217.81 km | 02:23:52 | 90.8 km/h | 0 | 569 |
| 30 | | Rudolf Kalousek | R1K | OK-7777 | ASW19 | 217.81 km | 02:24:44 | 90.3 km/h | 0 | 562 |
| 31 | | Antonin Fischer | AFI | OK-1103 | ASW19 | 217.81 km | 02:24:49 | 90.2 km/h | 0 | 562 |
| 32 | | Kresimir Hrastovec | KH | 9A-007 | JantarStd3 | 217.81 km | 02:25:31 | 89.8 km/h | 0 | 557 |
| 33 | | Valentin Tornavi | 574 | RA-SLY | ASW19 | 217.81 km | 02:26:50 | 89 km/h | 0 | 548 |
| 34 | | Martin Stransky | SMS | OK-6564 | ASW19 | 217.81 km | 02:26:53 | 89 km/h | 0 | 547 |
| 35 | | Martin Semrad | MSE | OK-DAR | JantarStd3 | 217.81 km | 02:30:12 | 87 km/h | 0 | 525 |
| 36 | | Mime Eric | J51 | ACT40 | ASW19 | 217.81 km | 02:30:30 | 86.8 km/h | 0 | 523 |
| 37 | | Marcin Domagala | MDC | SP-2125 | JantarStd3 | 217.81 km | 02:31:51 | 86.1 km/h | 0 | 514 |
| 38 | | Josef Spirik | S50 | SPIRA | ASW19 | 217.81 km | 02:32:59 | 85.4 km/h | 0 | 507 |
| 39 | | Alexander Novikov | AVN | UA-AVN | JantarStd3 | 217.8 km | 02:33:44 | 85 km/h | 0 | 502 |
| 40 | | Cseri Laszlo | CSL | HA-CSL | LS4 | 217.81 km | 02:32:56 | 85.4 km/h | 0 | 470 |
| 41 | | Slava Raduga | 050 | RA-DUGA | ASW19 | 217.81 km | 02:37:33 | 82.9 km/h | 9 | 470 |
| 42 | | Marko Kauzlaric | 202 | 9A-GAJ | JantarStd3 | 217.81 km | 02:38:58 | 82.2 km/h | 0 | 470 |
| 43 | | Miloslav Fiser | UB | OK-0376 | ASW15 | 217.81 km | 02:44:19 | 79.5 km/h | 0 | 467 |
| 44 | | Hubert Bernhardt | HB | F-CHUB | LS4 | 217.81 km | 02:34:21 | 84.7 km/h | 0 | 462 |
| 45 | | Jiri Ehrenberger | PJE | OK-6417 | ASW19 | 217.81 km | 02:41:57 | 80.7 km/h | 0 | 453 |
| 46 | | Jaryk Pauer | Y1 | OK-0804 | LS4 | 217.81 km | 02:37:00 | 83.2 km/h | 0 | 446 |
| 47 | | Radoslav Pur | EZ | OK-3734 | LS4 | 217.81 km | 02:45:58 | 78.7 km/h | 0 | 396 |
| 48 | | Olda Kounovsky | OK | OK-UFOK | ASW15 | 217.8 km | 03:11:21 | 68.3 km/h | 0 | 335 |
| 49 | | J Angenendt | JO | D-1985 | ASW15 | 201.16 km | | | 0 | 270 |
| 50 | | Aleksey Chernov | AV7 | AIRMAN | ASW19 | 164.51 km | | | 1 | 213 |
| 51 | | Zbyszek Tkocz | ZBY | ZBYCH | JantarStd3 | 150.7 km | | | 1 | 195 |
| 52 | | Jiri Holub | JHO | OK-4408 | Libelle | 129.6 km | | | 0 | 174 |
| 53 | | Alain Zutter | AZZ | F-CGAZ | ASW19 | 122.71 km | | | 0 | 160 |
| 54 | | Laszlo Flora-Nagy | FNL | H-FLORA | LS4 | 92.01 km | | | 0 | 115 |
| 55 | | T Broty | TB | OK-0516 | ASW19 | 43.48 km | | | 0 | 57 |
| 56 | | Nikolay Pavlov | IW7 | IW-777 | ASW19 | 42.84 km | | | 0 | 56 |
| 57 | | Adrien Henry | 19 | D-3948 | JantarStd3 | 217.8 km | 02:13:59 | 97.5 km/h | 0 | 0 |
| 57 | | Marcin May | MAY | SP-4545 | JantarStd3 | 217.8 km | 02:17:46 | 94.9 km/h | 0 | 0 |
| 57 | | Tomasz Zwolinski | TZ2 | SP-0028 | JantarStd3 | 2.9 km | | | 0 | 0 |

Download IGC files (all pilots in one ZIP file) | Detailed results (mCR, mIAS, Detour%...)
Briefing › Day 1 › 25.10.2014 › 20:00 CEST › Saturday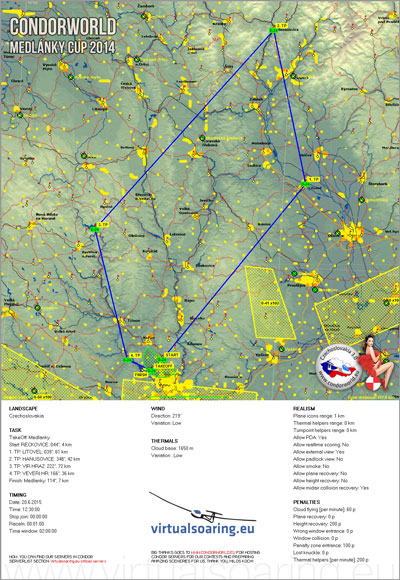 Server:CondorWorld Medlánky Cup
Password:
Date:25.10.2014
Time:20:00 CEST (18:00 UTC)
Join time:30 min.
---
Landscape:Czechoslovakia 3.0
Plane class:Club Class (IGC index used)
Task type:Racing Task
Race-in time:1 min.
Time window:120 min.
Start time:12:30:00
Condor date:20.06.2015
Start altitude:max. 2400 m QNH
---
TakeOff:Medlanky
Start:Medlanky
1. TP:LITOVEL
2. TP:HANUSOVICE
3. TP:VIR HRAZ
4. TP:VEVERI HR
Finish:Medlanky
Distance:218 km
---
Cloudflying not allowed! Circeling in the direction of climb is determined by the first glider in thermal. If you have doubts about the circeling direction, ask in the chat. Attention: some penalty zones (CTR/TMA) are active, please watch your PDA all the time! Please fly safe, good luck to all pilots.
---

Download Flightplan (FPL file)
---
comments powered by

Disqus